Office of the National Chairman
Through UMSC constitution, there is a part-time Chairman and a part-time Deputy Chairman of the Assembly elected by the Assembly from the entire Sunni Muslim population of Uganda under the Chairmanship of His Eminence the Mufti of Uganda for the purpose of such election.
In order one to be considered for the office of the Chairman and Deputy Chairman, has to have the following qualifications
A Muslim Sunni Ugandan of age 40 years and above
A person of sound mind
A holder of at least a bachelors degree or its equivalent from a recognized university or institution
Non partisan and not holding any political office in Uganda
Not convicted of any criminal charge under the laws of Uganda or not to have been successfully impeached by the UMSC at any time
Knowledgeable in Islam, be able to memorize and recite at least any twenty surahs of the Quran and
Must be able to speak the language of record.
Duties of the Chairman
Preside over UMSC General Assembly Meetings
Preside over UMSC Joint Session Meetings
Preside over UMSC Executive Meetings
Shall play an oversight and supervisory role of UMSC Organs
Spearhead disciplinary elect members and staff of UMSC
Spearhead the legislation of UMSC
Delegate roles to relevant persons and offices within the UMSC
To confirm the elections and appointments of the members of the UMSC organs
To consider, discuss and pass the annual budget of the UMSC
Receives resignations if any from either the Mufti or any of the Deputy Muftis
Receives resignations if any from any member of the Executive committee if any.
Spearheads approval of appointments of staff, transfer and termination.
Functions as the UMSC's board of directors' Chairman for the purpose of meeting their requirements of the company laws of Uganda.
Fact File of the Current National Chairman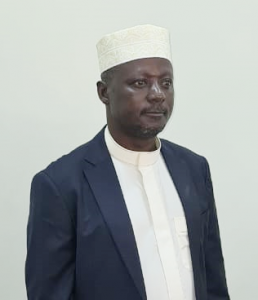 Prof. Dr. Hajji Lubega Muhamadi
He attended Namulanda primary school and later joined Kiira College Butiki for his O'level. He then joined Kibuli Secondary School in Kampala for his A 'level. He joined Makerere University Kampala where he obtained Bachelor of Medicine and Bachelor of surgery (MBchB), from 1991 to 1996.
In 2002 -2004 he had his Master's Degree in Public Health still from the same University. From year 2007 to 2011, he got a (PhD with bias in Health Systems and Policy) from Makerere University/Karolinska Institutet.
His contribution to Islam before
Leadership roles throughout his life in Kiira College Butiiki , Kibuli SS, Makerere University.
Leadership roles at his indigenous Juma mosque for his entire professional life.
Contributions to building mosques in his area, Iganga and Busoga in general.
Mentoring many Muslim secondary and tertiary students who are great leaders today.
Building or renovations of many Muslim schools, the most recent Namulanda Primary School (over 340m).
Lugazi Nursing School that has offered over 50    scholarships in the last 5 years equivalent to 500 Million).
Lubega Institute of Nursing & Health Professionals which provides employment opportunity to the Muslim community.
 Luuka Muslim district distinctive leadership, financing, planning and management.
Tremendous support to the Busoga Muslim region and many other charity organizations
Sponsored many needy Muslim students at primary, secondary and tertiary institutions
Lobbied over 3 acres of land for the Busoga Muslim region.
Mobilized Muslims for COVID relief to all imams in the country
Achievements of the Current Office of the National Chairman
Presided over the first General Assembly meeting on the 3rd of December 2022, on the same day after being elected.
So far presided over three inaugural of Executive and Joint Session meetings which can be underestimated within that short period of time.
Spearheaded the formulation, discussion and ensured approval of a Strategic Plan (2023 – 2028) for UMSC.
UMSC Grant Management Policy formulation, discussion and approval was Spearheaded by this office.
Advocacy for UMSC social – economic transformation from development partners.
Restored UMSC Website ( www.umsc.or.ug ) to functionality which had been offline for a while.
Spearheaded for the creation of UMSC social media accounts including Twitter, Instagram, You Tube which were lacking in this world of digital media.
Seeking and inviting several result-oriented professionals and entrepreneurs into the activities of UMSC.
Formulated and approved UMSC sub-committees including Education committee, Finance committee, Legal committee, Da'awah committee, Social services committee, Halal committee and Appointments & Disciplinary committee.
The National Chairman Organized and participated in the main Anti-Gay Walk in Jinja city.
Recovery of over 5 acres of land with its title in the centre of jinja city.
Approached the office of H.E the president of the Republic of Uganda in lobbying for;
Establishment of financing mechanisms for Muslims who apparently can't by faith order take up interest-based loans.
Further support mechanized agriculture (a tractor per district or pilot in a region), seeds, seedlings of cash crops such as coffee, cocoa, macadamia, cassava, banana suckers, avocado, palm etc commensurate with the technical soil zonning granary facilities for produce in every Muslim region.
Intensive farming like heifers, goat/sheep raising which has a very high market, especially in the Arab world.
Commercial agriculture undertakings based on regionalized research, tree planting for areas with vast Muslim land.
Attracted many entrepreneurial minds and personal book in UMSC and still ongoing in this office.
Formulated and approved UMSC Property Trust and Shura Council committees.
Participated in passing of UMSC Budget for financial year 2023.
Deputy National Chairman
Hon. Abon Muzamil